This coming weekend (April 27 (Sat.) to 29 (Mon., public holiday)), one of the biggest and well-known cross-media events in Kobe named "078 (Zero・Nana・Hachi)" will take place in multiple venues (Meriken park, Minatonomori Park, KIITO, Kobe East Park, and Kobe Harborland). We hope many people from the Kobe area as well as other regions and countries come and enjoy the event. In addition, the Ikuta Collector will also hold cool international events along with 078 at night on the 27th and 28th. Let's make our nightlife experience in Kobe vibrant, energetic, and full of excitement!
"078" official web site→https://078kobe.jp
April 27 (Sat.) Borabora Kobe Sannomiya presents "KOBE INTERNATIONAL"
Venue: Borabora Kobe Sannomiya, Kobe VARIT. (*Come and go as you please.)
Time: 8 PM to 0 AM
Admission fee: free (*600 JPY (one drink ticket) or 1,500 JPY (all-you-can-drink ticket) will be charged.)
Supported by 078 / IKUTA COLLECTOR
* Show your coupon at the bar to get one drink for free.
The top DJs will perform at Borabora and the "Gagaku" artists will play Japanese traditional music at VARIT.
Please join us and enjoy the cool music, good conversation, and great food and drinks in the international atmosphere.
https://www.facebook.com/events/2517388585214401/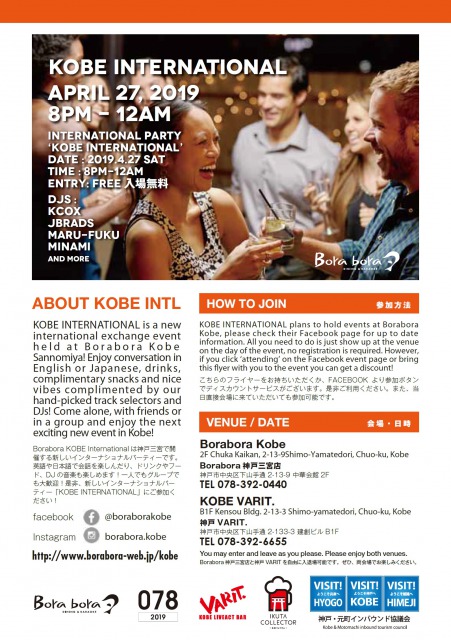 April 28 (Sun.) 078music×Penny "KOBE MIDNIGHT GLOOVERS"
Venue: Kobe VARIT.
Time: 10 pm to midnight
Presale ticket: 2,000 JPY (one drink ticket: 600 JPY)
Artists: <BAND> MONONKUL / Mutsumi Kuwahara BAND / SATTU CREW
<DANCE> MARiNO&YOU
<DJ> Daigoroooooooou / Penny
* Show your coupon at the bar to get one drink for free.