The Ikuta Collector aims to make our nightlife experience in Kobe vibrant, energetic, and full of excitement!
Tomorrow, a rock 'n' roll event performed by young rising artists will take place at two cool venues, Kobe VARIT. and the party space FLAT FIVE. Come and experience young energetic power! Don't miss out!
We'll give a special offer to those who've signed up for the official LINE@ of the Ikuta Collector! They can take part in the event for only 1,000 JPY with a one drink ticket!! (*available only in the live music venue VARIT.)
Let's have a blast in an awesome atmosphere with dynamic sound and lighting. Perhaps they could become big and famous artists in the near future! We'll be waiting for you to swing by! See ya then!
Date: June 8th (Sat.)
Venue: Kobe VARIT. and FLAT FIVE (*Come and go as you please.)
Time: OPEN: 13:00, START: 13:30, END: 21:00 (as scheduled)
Price: 2,500 JPY (*600 JPY (one drink ticket) will be charged.)
*Please show your coupon at the entrance of VARIT. You can enter for the special discount price! (1,000 JPY including one drink ticket)
Artists: THE TOMBOYS / Haikarahakuchi / THE MAD GENTLES / CAT ATE HOTDOGS / Seuss / The Dragers / The Golden weeks / THE RELAXIN'S / The howling' dogs / Yureru Dress / GARAKUTA ROBOT / The Stephanies / THE SiX BULLETS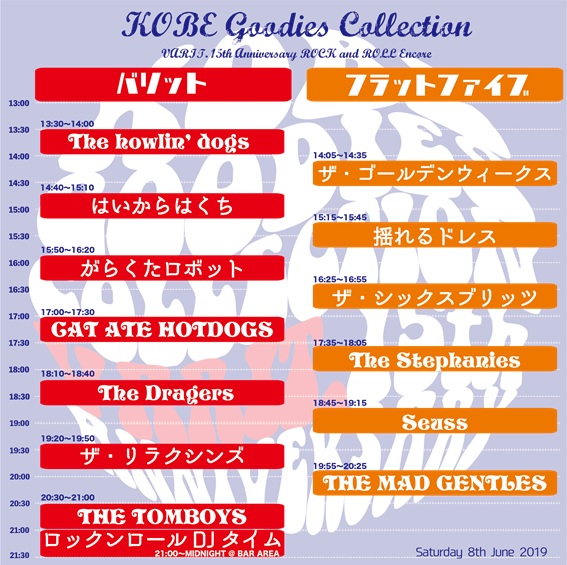 Event page
https://www.facebook.com/events/188263568755554/