Hello everyone all across the world!
When you hear the word "Kobe", I think it reminds most of you of Kobe beef first. As for Kobe locals, Kobe is well-known as a city that is very closely surrounded by mountains (Mt.Rokko and Mt. Maya) and the sea(Seto Inland sea). As this geographical feature is extremely rare here in Japan, a lot of Japanese tourists visit Kobe to feel Kobe's abundant nature. Kobe residents have been receiving countless benefits from Kobe's mountains and seas. The world's top beef is one of them as you know. Kobe Wine has also been gaining international attention over the last couple of years. One of the best Kobe Wine brands "Bénédiction (2016)" was served at the G20 Osaka Summit Leaders' Dinner in 2019. These are bliss from Mt. Rokko and Mt. Maya.
When it comes to Kobe's local sea, fresh seafood is unrivaled, of course. On top of that, Kobe's breathtaking views from cruise ships are absolutely my top recommendation. I call it "Ura Kobe (backside of Kobe in Japanese)". Whilst, a super famous night view from Mt. Rokko and Mt. Maya is highly acclaimed as the Ten Million Dollar Night View and I call it "Omote Kobe (front Kobe in Japanese)". Needless to say, the Omote Kobe view is so brilliant but the Ura Kobe view is sort of special for Kobe locals like me. I was born and brought up in Kobe. Since I was a child, taking a cruise ship from the Port of Kobe and enjoying the Ura Kobe view from the sea has been one of my best leisure activities to treat myself within Kobe. The tour route "Mt. Rokko, Mt. Maya (outdoor activities) → downtown (Kobe beef), Port of Kobe (cruising)" is very popular for both Japanese and foreign tourists.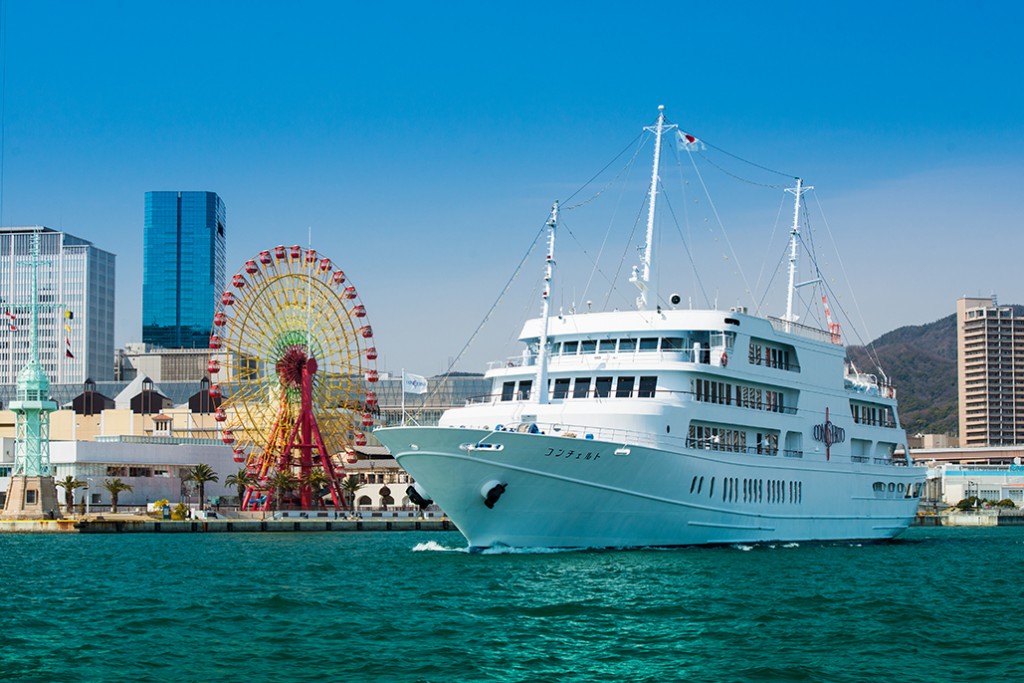 However, the Covid-19 pandemic took my sweet memories away again. Owing to this coronavirus crisis, almost all cruise ship companies had to suspend their services for more than a year. And in the end, sadly, some of the biggest and long-running sightseeing ship companies closed down their services a couple of months ago. It was extremely heart-breaking and painful for me. This severe downturn is not only sucking out our energy, but also taking away our precious memories, hopes, and dreams for the future.
Last week, I was just watching a local news program on TV and one of the topics completely touched my heart. The news anchor strongly announced that one of Kobe's major cruise ships "CONCERTO", which was forced to close their service, just resumed it! The CONCERTO was just revived! Under this unprecedented corona crisis, we haven't heard any good news for months. This is undoubtedly our silver lining! This is "revival".
The Great East Japan earthquake marked a 10-year anniversary on March 11th, 2021. Even now, people in the damaged region have been facing uncountable difficulties but they have never given up and been resolving the issues for their revival. Also, here in Kobe, we also experienced the Great Hanshin earthquake in 1995. I was in Kobe on that day. We lost so many things but we didn't lose hope for our bright future. Round the clock, we worked on everything we could do from scratch. And years later, we finally grabbed our happiness again with Kobe locals and amazing supporters from all over the world.
Then again, we have been facing new hardships, however, we can overcome anything together. Our restaurant "Meriken・Hatoba" is almost ready to welcome all of you. So, please check out information about Mt. Rokko, Mt. Maya, Kobe beef, and cruise ship services online and make the best plan for your future Kobe trip.
https://kobe-rokko.jp/en/
https://kobeconcerto.com/en
https://meriken-hatoba.jp/en
Have a great rest of your day!
Sonoshi Okumoto