Don Quijote Sannomiya branch
Shopping mall,Shops  Kitano,SannomiyaArea

Don Quijote, which stores a vast variety of everday items, has newly opened a pharmacy!
Don Quijote has begun selling wide selections of Japanese medications which are well-known among foreign tourists.You can find your favorite everyday items whenever you need! We restructured our floor to make it more convenient for you.
3 POINT Moreover, our special features include;
Chinese- Korean- English- and Thai speaking staff members are ready to serve you. You can expect reliable service shopping with us.
We have a full variety of items from brand-name goods to daily commodities and cosmetics.
We have an assortment of the most popular items in Japan! Numbers are limited and the offer ends as soon as our stock runs out. Don't miss your chance!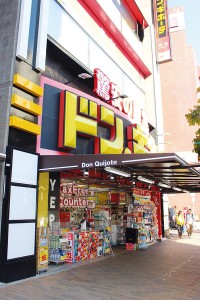 From popular home appliances to cosmetics and everyday items! You can find whatever you want here at Don Quijote!
Don Quijote Sannomiya branch
2-12-3 Shimoyamate-dori, Chuo-ku, Kobe
078-335-0311
Open 24 hours
Open daily