I had been wanting to go to Japan for a long time. Every year I had said "I'll go this year" with the year ending and my passport devoid of any overseas stamps. Finally, mid 2015, I decided that next time had come. I bought tickets for myself and my son, age 17, booked out places to stay, planned itineraries, and waited. October finally arrived and we left on October 25th.
We landed in Japan on October 26 2015 with plans of seeing many landmarks and attractions that made Japan standout as a travel destination. It was our first time being overseas and I couldn't have imagined it anywhere else. We started in Tokyo, went to Osaka, had a day trip in Hiroshima, and finally ended in Kyoto with our last day mainly as a travel day. While in Osaka, we had an opportunity to go to Himeji Castle. We went and I wasn't disappointed.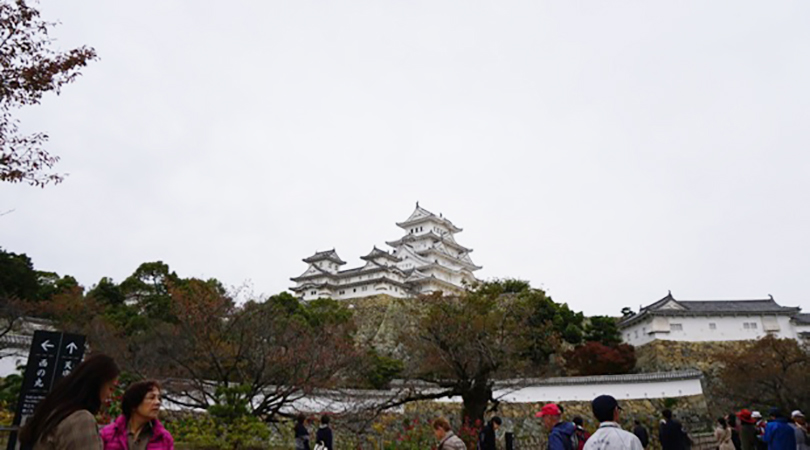 The Historical Himeji Castle
As you leave the north side of Himeji Station in Himeji, you'll easily be able to see Himeji Castle off in the distance. The road outside the station leads you right there, the castle always present in the background. It must have been at least a 15 minute walk from Himeji Station. Many foreign and Japanese tourists were on their way to see the historical landmark (registered as a UNESCO World Heritage site in 1993).
As we got closer to the castle, we saw several people dressed up in period costumes. Many people had asked them to stop for a picture or two. I came to find out later that there is a local costume shop that rents out period costumes for you to wear about town including Himeji Castle. I'm not sure if this group had done that or not. Either way, it certainly added to the atmosphere of feudal Japan.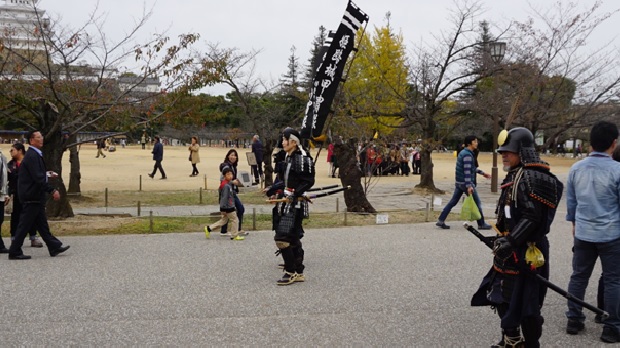 We headed to the main entrance to the castle. There was an entrance fee of 1000 Yen per person which was reasonable. Just on the other side was a Japanese gentleman holding up a sign saying he gives tours in English. I couldn't pass that up and was very glad that we didn't. He had a wealth of knowledge about the castle. He was very eager and was able to answer what questions I had. At the end of the roundtrip around the castle, I found out that he had been giving the tour for about 30 years.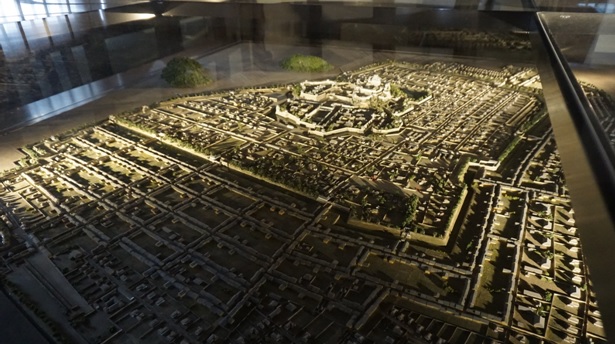 The Hidden Mysteries
We walked around for a couple of hours where every now and again, our volunteer tour guide pulled us off the beaten path to show a bit of the castle that was hidden. There were symbols on the roof tiles showing families, a hidden cross indicating Christianity, secret paths, and so much more. As we walked past a citrus tree bearing the yuzu fruit, our guide recounted times from his childhood where he had the "pleasure" of eating it. He laughed about it as it was a taste that wasn't very pleasant for himself.
The castle itself was amazing to see without the bonus information. The structure has remained mostly intact for over 400 hundred years with a restoration effort that was completed in early 2015. The interiors were unadorned of lights except for a few key battery powered lamps. It was somewhat dark in some corners at the tail end of the day. We took off our shoes when we toured the innards where we walked upon original wood floors. There were many stairs to climb to reach the top level which were tricky to climb for myself, having to duck many times.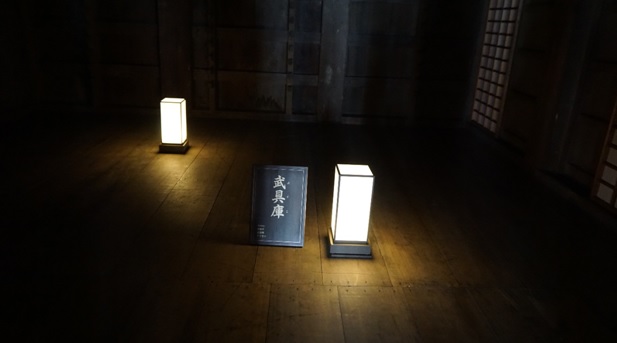 A Castle above all others
During our travels in Japan, we managed to see and explore three castles: Osaka Castle, Himeji Castle, and Hiroshima Castle. Each castle provided their own unique view on the history of Japan in their own way. Osaka Castle was rebuilt and turned into a modern museum showing the history of the area. Hiroshima Castle, also rebuilt, was a museum housing the artifacts of the feudal period that included swords and armor of the samurai of the region. Himeji Castle was a relic from 400 years ago. It provided a unique picture of the structures of the time.
One of my favorite keepsakes of our trip to Japan was a medallion with a raised molding of Himeji Castle I purchased at the gift shop there on the grounds. I have it hanging in my cube at work. Every time I look at it, I'm reminded of the 11 days I spent in Japan seeing the culture, eating the wonderful food, and discovering the lay of the land. We saw many landmarks including the towering Tokyo Skytree, the neon lights of Dontonburi in Osaka, and Fushimi Inari Shrine in Kyoto. Himeji Castle stood out for me above them all. To me, it represented what Japan is: A culture withstanding the tests of time.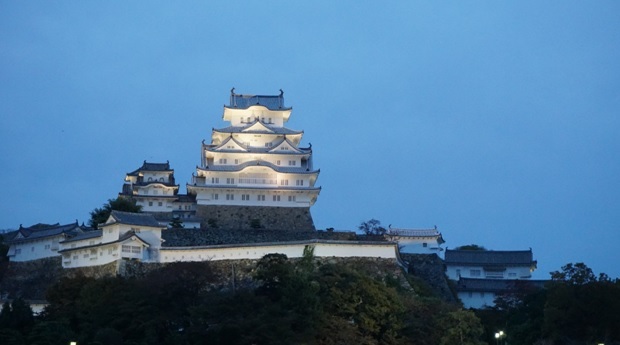 Writer
Keith Andersch
Bio
Keith Andersch is a new traveler from Seattle, Washington, USA. He has had an interest in Japan in varying aspects for years which includes the culture and learning Japanese. In his down time, he enjoys games, anime, and video editing.