Since its opening, Kansai International Airport, which has always been highly ranked in the World Airport Awards, has been gaining international attention as one of the most outstanding offshore airports that the world has ever seen.Amid its popularity the KOBE-KANSAI AIRPORT BAY SHUTTLE High Speed Boat is becoming one of the most recognized public transportation services between Kansai International Airport and Kobe for tourists around the world.
In addition to its convenience, the changing brilliant views reminiscent of a kaleidoscope, the smell of fresh sea air at the pier and the dynamic motion of the Bay Shuttle on the sea will captivate you."Riding the Bay Shuttle from the Kansai Airport heading to Kobe, a port town across the sea" Without a doubt, it is a great travel experience way beyond typical transportation services.

On the way to Kobe (on the sea and on the Port Liner to downtown), various sights will jump out at you, entertain you, and welcome you. Seagulls resting on the dock, lighthouses, blue skies, the world's largest suspension bridge Akashi-Kaikyo Bridge, a sunset on Kobe Airport, the million-dollar night view of Kobe and more. On board, you can see the cheerful faces of the locals returning to their hometown, and foreign travelers with excitement and expectations for their upcoming tours to Kobe.

Mr. Hirayama, the captain of the ship says with a modest smile; "The best part of my job on the Bay Shuttle is to provide all passengers with a dynamic, safe cruise that will make them smile."Travelers from abroad can get a discount ticket of 1,000yen (the lowest rate among transportation to the Kobe area) by showing their passports at the ticket counter. The discount is definitely worth it!

Related article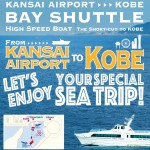 BAY SHUTTLE, a High-Speed Boat which is a super convenient option to travel from Kansai International Airport to Kobe Airport. It takes 32 trips every day, 16 trips each from Kobe Airport and Kansai International Airport. 01 Arrival Gate to Ticket Counter In order to reach the BAY SHUTTLE ticket counter, walk out of the arrival gate of Terminal 1 and make a right, then go straight to the very end of the terminal. When you come across a tall silver standing clock with a sign reading "North", you'll soon find the ticket counter. 02 Get your ticket and go to the pier Travelers from abroad can get a discount one-way […]