One of Japan's most exquisite foods proudly offered to the world is: KOBE BEEF. As most people have heard, Kobe beef is definitely delicious, but two famous, well-experienced chefs from Kobe are creating new and innovative dishes based on their own approaches.We had an exclusive interview with Mr. Yamamura from Kobe steak restaurant [Mouriya] and Mr. Tsutsui from [Kobe Sanchoku Marche] to find out what they think about Kobe beef.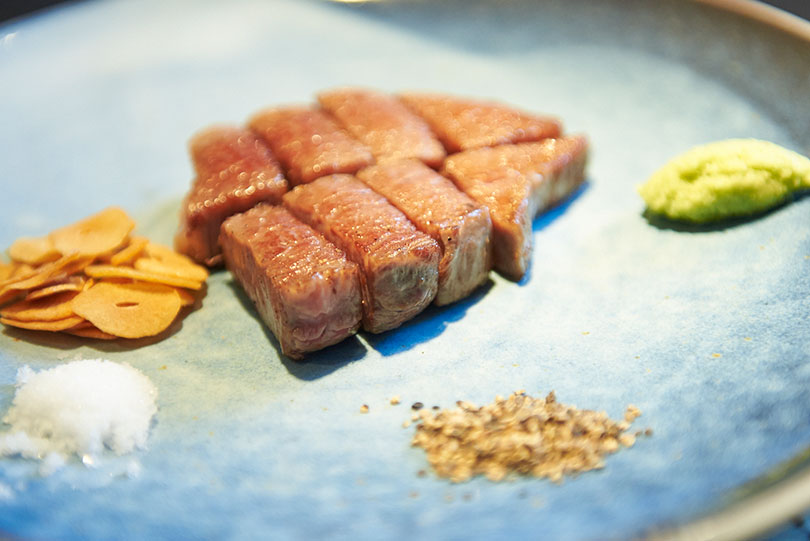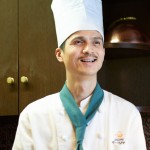 Profile / Biography
Mr. Masami Yamamura
Mr. Yamamura was originally a chef specializing in good old-style (home-style) western food. About 22 years ago, he was totally captivated by the beauty of cooking on a hot iron griddle in front of customers. Ever since, he has been cooking (Teppanyaki) on hot plates at the Kobe beef restaurant.
"The charm of Kobe beef is definitely the delicious balance of the fat and lean meat." These are the words of Mr. Yamamura, who is the head chef at Kobe steak restaurant [Mouriya]. Compared to ordinary beef, the melting point of Kobe beef fat is extremely low. It is said to be about 36 degrees Celsius. Because the fat has such a low melting point, the lean meat mixes with the fat, giving the meat a very melt in your mouth taste that is not oily at all. This is the signature characteristic of Kobe beef.
Although the cooking done by Mr. Yamamura looks simple at first glance, it is absolutely impossible to maximize the potential of this incredibly high quality ingredient without his world-class skills. I only concentrate on how to make delicious ingredients even more delicious, says Mr. Yamamura.
One of the other important aspects to him is "omotenashi" or hospitality. I don't relax even for a second and need to stay sharp during cooking since customers are watching me at all times. All our staff members here at my restaurant always provide the best hospitality from the bottom of our heart so that our customers can enjoy their dishes in a special and comfortable atmosphere.
His soft speech belies his dedication but his actions in the kitchen definitely convey to everyone his appreciation for Kobe beef and his pride in putting the greatest effort into cooking on the "Teppanyaki."
Go to this page for more information.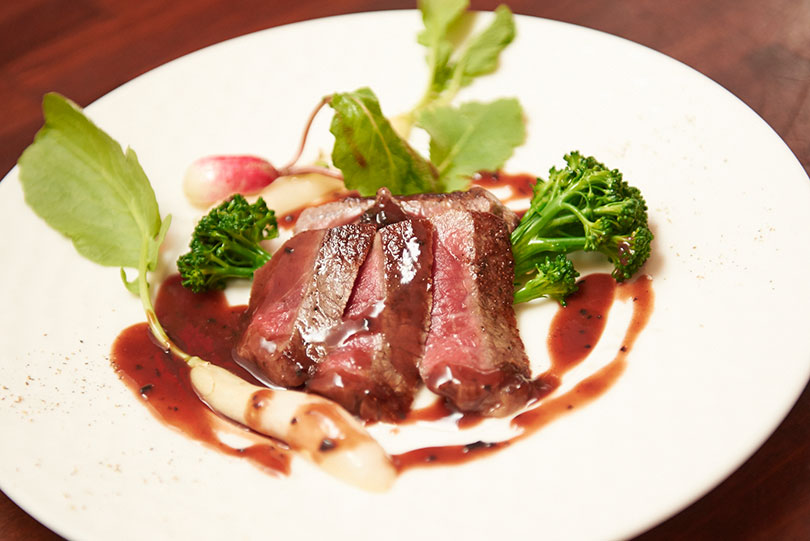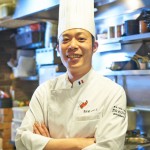 Profile / Biography
Mr. Daisuke Tsutsui
He started his career as a western food specialist. He sharpened his cooking skills at leading French restaurants in the Kansai ANA hotel and Ritz-Carlton Osaka. Now, he is putting full use of his talent and experience at a casual-style French restaurant, Kobe Sanchoku Marche, in order to provide the best and friendliest service to customers. Currently, as the head chef, he is providing the best casual French cuisine in Kobe.
Hyogo Prefecture, surrounded by the sea and mountains is a treasure trove for a vast variety of ingredients.
In that sense, Kobe is really a gourmet town. Chef Tsutsui talks cheerfully. He has worked at famous hotels for many years as a chef, but he was surprised at the wide variety of food ingredients in Kobe.
Among them, he was completely amazed by Kobe beef. As Kobe beef has fine muscle fibers, the meat is very tender. Plus, the mild flavored fat goes really well with other ingredients or sauces. And since the lean meat has a deep, rich taste, you can still taste the original flavor of meat, even served with rich red wine sauce. His specialty is "Sauted abalone and Kobe beef served with two kinds of sauces, porcini and truffle"
The abalone is delivered from Awaji-shima Island and vegetables are grown by the local farmers. The best of Kobe is on this plate. Kobe is a special town and everything here is so delicious. I'll do my best to let people know not only about Kobe beef but also about other wonderful food in Kobe.